Well, I'm no longer a virgin! YAY! Well actually I went to my first scifi, fantasy, anime convention in Stony Brook, NY this past weekend. I've never been to one, but they sounded like a lot of fun. I found out, you have to be part geek, part nerd, slightly insane, have an open mind, and be willing to have a friggin' blast! I think I fit right in! And I promoted the heck out of DeviantArt while I was there! So thanks to Kassandra

who gave me the info on how to find the place, and who was also the first Deviant I've actually met in person, I had a great time and got some great pics too!
So if you're looking for the photos, you can find them here: On Flickr:
www.flickr.com/photos/dracoart…
or on PhotoBucket:
s22.photobucket.com/albums/b32…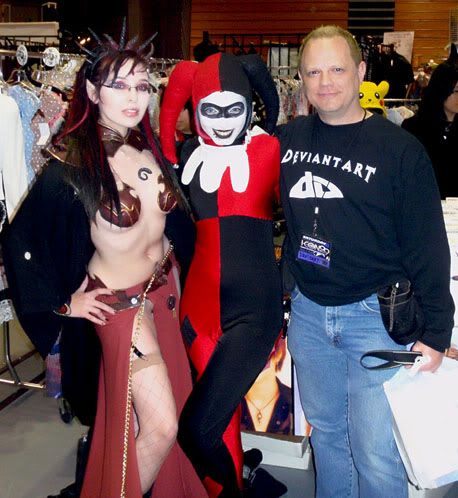 The beautiful Kassandra

, Eliza

and my ugly mug!
Now stop banging your head into that stone sculpture of Barney Rubble and go do something useful with your life!
------------------------------------------------------------------------------------------------------------------
My Art:

My Stock:

My Clubs:


Model Mayhem:
www.modelmayhem.com/150148
MySpace page:
www.myspace.com/dracoart
My Facebook page:
www.facebook.com/profile.php?i…
My Flickr page:
www.flickr.com/photos/dracoart…
My Twitter page:
twitter.com/MSLdraco
-----------------------------------------------------------------------------------------------------